Frequently Asked Questions
What is a Headstone? Is it the same thing as a grave marker?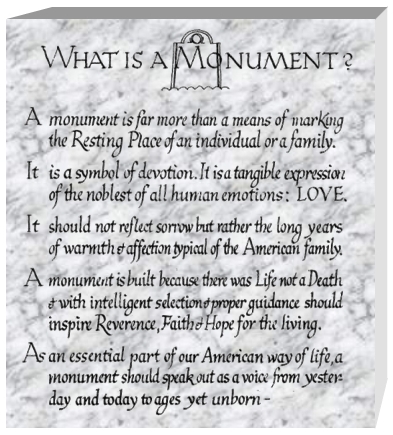 Several terms are used to refer to Headstones. These include headstone, gravestone, marker, flat marker, grave marker, grass marker, memorial, monument and tombstone.
How heavy is a granite Headstones?
Headstones weights vary depending on size, thickness and color. For example our most common headstone is a 24" x 12" x 3" and weights 86 lbs.. Some of the larger styles can weight in excess of 1,000 lbs.
How is the Headstone produced?
During the ordering process, you select the artwork and text that will be applied to your Headstone.

Your selected artwork and text is then sandblasted into the granite.

A coat of paint is applied to the sandblasted areas on the marker. All grey markers are painted black and all other color markers will be painted white.
Does the cemetery need to approve the Headstone?
Most cemeteries adhere to certain specifications that may include size, color and material of the Headstone. You should always check with your cemetery before placing an order.
What happens if I need to make a change to my order?
Contact us immediately with any changes that you require. Please note that any change to the order may result in an additional fee. The cost of the fee depends on the status of your order and may range up to the total cost of the order.
What are my cemetery's requirements?
By law, all cemeteries must accept a headstone purchased from an outside source. They may, however, have regulations on the size, style and color of the stone. We will get written confirmation that the monument we create meets your cemetery's requirements if shipping to your cemetery. We are happy to work with your cemetery officials on your behalf.

If your cemetery requires a setting permit or application, we will do the paperwork for you. All additional cemetery fees for installation, foundation and any other applicable cemetery charges will be at the responsibility of the purchaser.

Will I get to approve the design first?
You will get to proof and approve the marker before manufacturing takes place. Remember, changes can not be made after our work starts. Please take time to go over the designs we send you – especially when foreign languages are used on the stone.
Are your stones guaranteed?
We want you to have peace of mind. Your stone will be fabricated from the finest quality natural granite. Our granite is free from defects and will not check, crack or disintegrate. Sandblasting will be done by artisans we have used for years. If your stone arrives broken, dented, missing parts or with any defects at all, we will replace it for free at no additional cost to you.

Granite and Bronze are made to weather all elements. Your memory will never fade and neither will your loving tribute.